It was a spectacular sight gag, I'll give them that.
After Avengers: Endgame's nearly hopeless first act, the action moved to New Asgard on the Nordic coast. Hulk and Rocket arrive to find Valkyrie had survived the snap, and Korg and Miek were happily playing Fortnite and eating their weight in terrestrial pizza. Then, he appeared, striding across the floor strewn with beer bottles and pizza boxes, hauling around a gut and back rolls: the God of Thunder.
(Insert your joke here. Everyone else has.)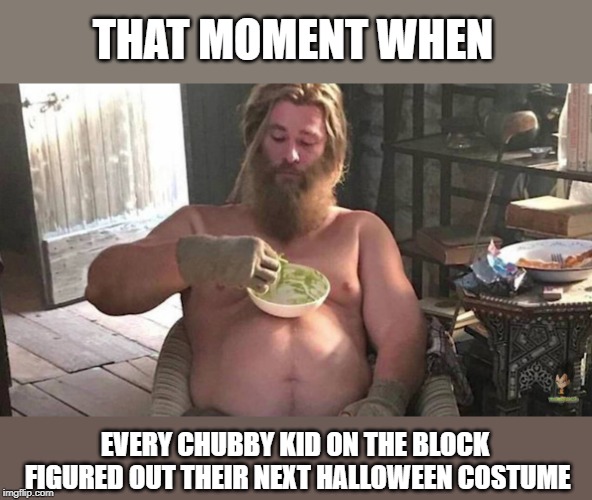 On first viewing, the scene was welcome comic relief in keeping with Thor: Ragnarok, the film that finally gave Chris Hemsworth's character some character. In retrospect, as a number of people have pointed out, his situation in Endgame wasn't all that funny. After five years of PTSD, depression, alcoholism and a half-universe of guilt weighing on him for not killing Thanos when he first had the chance, his emotional pain was literally writ large on his physical form. In that context, the fat jokes were particularly cheap shots.
The writers and directors of Endgame have talked a lot about how they and Hemsworth wanted to take the character in a radically new direction that not only addressed his mental state but also the nature of superheroes. They admit Thor was not much more than a pretty-boy brat in previous Avengers films, implying that losing his six pack after too many six packs helped him become the god he was supposed to be all along. Besides, they say, superheroes come in all shapes and sizes. Screenwriter Christopher Markus said, "We leave him in that state at the end of the movie, even though he's emotionally resolved. We fix his problem, and it's not his weight."
Good for them. Easy for them, too, because Thor is a male character played by a notoriously athletic actor wearing a fat suit that he certainly didn't wear to do press for the film. That wouldn't have been possible for the women.
Valkyrie is in similar straits when we first meet her in Thor: Ragnarok. An emotional wreck after seeing all her comrades die in battle, she staggers from bottle to bottle to drown her sorrow and pain. Arguably, she's been drinking longer and harder than Thor ever did — yet she's still in fighting trim.
Can't there be a thicc Valkyrie – without it being a symptom of a serious mental illness, by the way? Why shouldn't Captain Marvel be bulked up to better blast all those photons? How wonderful could it be if Pepper Potts wins Tony Stark's heart and runs his multi-billion dollar corporation while shaped more like a pepper pot? We can only wonder.
There are so few female main characters in the saga in the first place, even fewer who are women of color – and the very fact there are any women at all riles up the trolls in spectacularly brutal fashion. I can only hope Marvel will one day take the truly radical direction and create a character who is fantastic, female and fat.
No joke.
See you on the flip side …