I saw Avengers: Endgame twice in its first two weeks in theaters, and I'm still aflutter. The first viewing was like a roller coaster: you brace for whatever the Russo brothers are going to throw at you, then you give over to the speed and twists and lack of brakes and end the three-hour ride exhilarated and exhausted.
This second time through, I let my mind wander a little more:
For all her fighting with, then against, Thanos, Nebula still has time to get her nails done. She also has eyelashes a Kardashian would envy.
Speaking of eyelashes, Chris Evans' look like they're made of chinchilla.
Natasha wore the most gorgeous lip color on her one-way trip to Vormir. Perhaps MAC will market it as "Soul Stone Sacrifice."
So why didn't Ben & Jerry's come out with Hulk-a-Hulk-a-Burning Love – in gallon containers?
Speaking of Chris Evans, he is the most symmetrical human being I've ever seen.
Why would Scott Lang – a San Francisco native – eat hard shell tacos?
How much did William Hurt get paid to stand silently in the back of row of Tony Stark's funeral tableau as his only appearance in the whole movie?
How much more did Samuel L. Jackson get paid for the same job?
How many Academy Award winners were in that movie? I counted seven people and eight Oscars: Michael Douglas (2), William Hurt, Brie Larson, Gwyneth Paltrow, Robert Redford, Tilda Swinton and Marissa Tomei.
Speaking of Chris Evans' symmetry, baby got back.
Over the past weeks, I've been obsessed. I've gone down every YouTube rat hole – including one hailing the mouse as the actual savior of the universe. I've located every Easter egg, read thought pieces in the New York Times and unsuccessfully searched for a Kevin Feige bobblehead. It's not healthy – but that's how I roll.
I have been a superfan many times in my life. I saw the original Star Wars 18 times in the theaters and still have four original action figures (minus the rifles, dammit). I was a stone cold X-Files freak until about halfway through Season Six, when I threw in the towel because Scully had been pregnant for fourteen months and Mulder was noticeably AWOL. The show Lost? I LOVED the final episode – don't @ me.
Now I've been sucked into the MCU and never want to leave. I can only wonder why, as a grown woman who could be investing my time into more refined pursuits (writing, knitting, going down a Tom Petty YouTube rat hole like I'm supposed to), Endgame has hit me so hard.
This may be because, as much as it exists to be cool and blow stuff up, the final story of the 22-film saga centered on family bonds. Who do you choose as your family when you have none of your own due to being frozen for 66 years, or having been an assassin since childhood, or being a talking raccoon? If you could have one last conversation with a parent before they die, what would you talk about? And when death takes those you love, how can you possibly move on?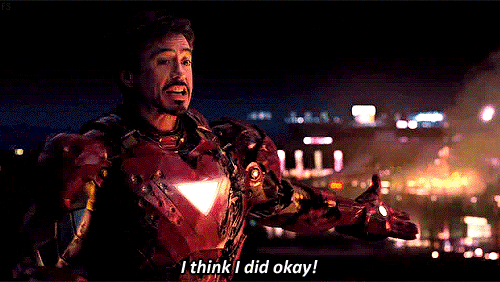 It's also because of Iron Man, or more correctly, Tony Stark – or even more truthfully, Robert Downey Jr. His talent is breathtaking, funny, mercurial and heartfelt. His unique take on this role rescued his career after years of addiction and bad casting. It also set the whole MCU on the path of greatness, with subsequent films attracting amazing actors who embraced being sorcerers and African kings in vibranium cat suits and gamma-irradiated big green men without hesitation or apology.
Downey Jr. is six months older than me, and there won't be any other central Marvel character who is my age in this universe again. At best, today's greats might be featured in secondary roles, as everyone from Glenn Close to Annette Bening has been. I'm glad these timeless actors are getting work in such high-profile properties … but they aren't the heroes anymore.
What does that say to me, at this point in my non-heroic life? I'm still working on that.
One of Tony Stark's best lines from Endgame in his hologram goodbye to his four year old daughter: "Part of the journey is the end." That's really heavy news for me, much less a little girl mourning her dad. It bumps up against what I've wrestled with since I turned 50 more than three years ago, followed by the loss of my most beloved musical heroes and my novel imploding after more than a decade of work. With those parts of my life wrapped up, what now?
I am trying to frame my Endgame obsession as inspiration for my next great move forward: writing a totally different novel, balancing my personal and professional responsibilities, maybe even falling for a new favorite band. After all, in the MCU, there's always another saga to be told.
See you on the flip side …